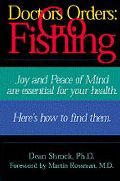 Doctor's Orders: Go Fishing
This book details the program Dr. Shrock developed and taught to thousands of cancer patients and their families. Discover for yourself why his patients lived much longer than those receiving only conventional medical treatment.

 ———————————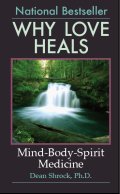 WHY LOVE HEALS
Discover the overwhelming scientific evidence for the healing benefits of feeling loved. Learn why WHY LOVE HEALS has become an Amazon Bestseller in three categories: Healing, Alternative Health, and Spirituality. After more than 30 years of study and experience, Dr. Dean Shrock tells us how to stimulate the natural harmony that lies within us, where well-being is the only outcome.

———————————
Guided Imagery for Relaxation and Stress Management
Downloadable
Guided imagery is a form of mental rehearsal. It is the mental picturing, or sensing, thinking and feeling of a desired outcome; then the body responds (like a placebo response) as though this actually were true. Because consciousness creates, as explained through quantum physics, your thoughts and feelings literally can create whatever you visualize.

———————————
Guided Imagery To Experience WHY LOVE HEALS
Downloadable
This guided imagery program will allow you to tap into the peace and well-being that comes from within. Connect with the truth of who you are, and experience your own inner love.

———————————
The Power of the Heart
With its unprecedented convocation of eighteen of the world's greatest spiritual thinkers, authors, and scientists, including Paulo Coelho, Maya Angelou, Deepak Chopra, Isabel Allende, Eckhart Tolle, and Dean Shrock this beautifully designed full-color book – which ties into a movie of the same name – reveals how you can overcome limitations and fulfill your highest potential.

———————————
Nutrition
Good nutrition is vital to good health, disease prevention, and physical and emotional well-being!

 ———————————
Integrative Oncology
More and more people living with and beyond cancer seek integrative interventions to complement their conventional cancer care. This second edition of the highly successful Integrative Oncology provides the reader with the most updated information available. Integrative medicine is defined as healing-oriented medicine that takes account of the whole person (body, mind, and spirit) as well as all aspects of lifestyle; it emphasizes the therapeutic relationship and makes use of appropriate therapies, both conventional and alternative.