~ Guided Imagery To Experience WHY LOVE HEALS
by Dean Shrock, Ph.D. ~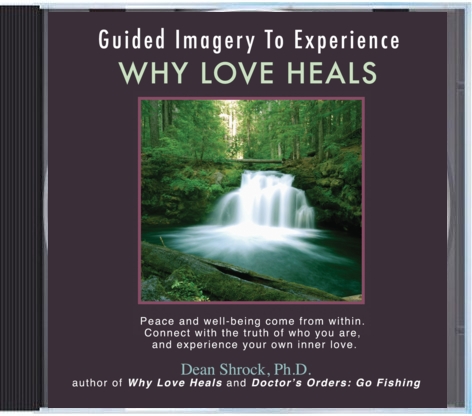 Listen to a Sample Here:   
Now You Can Feel the Love…
In this CD, Guided Imagery to Experience Why Love Heals, Dr. Dean Shrock guides you to a new and healthier you. You truly feel the love and compassion emanating from his warm and soothing voice as you relax your way to a feeling of wellness.  He is indeed a guided imagery master. Dr. Shrock's uniquely calming voice and expertise refresh and relax you while all your worries and concerns seem to melt away.
"Through this CD, Dean empowers you to take charge of your life and health. You discover the fullness and well-being that you are meant to have. Dean guides you to a state of relaxation in which you experience healing energy flow into your body causing any tension or discomfort to gently dissipate from your being."  – Pat P. – Michigan

"…If it had not been for Dr.
Shrock's Healing Meditation, I most
certainly would have ended up in the
Emergency Room…
Dean's soft-spoken words guide you to reconnect with your Eternal Self, through which all healing is realized. You experience the freeing journey of surrendering to this natural healing force. Dean guides you to better health through a greater understanding of who you are.

Love is a universal, all-pervasive energy that flows through everything. Love is a vibration of your soul. Guided Imagery to Experience Why Love Heals opens your mind and body to feel the loving essence of your soul. And when you heal the soul, your body follows. Listen to this CD and experience your own inner love, and discover the beautiful, healthier you living within.
"I found listening to the recording a most profound, moving & joyous experience…"
"Regarding 'Who are You' I found listening to the recording a most profound, moving & joyous experience. As a serious student of self enquiry, I am familiar with connecting to source & having a direct experience of who I am. However I have not come across anything quite like your recording. It is simple, stunning & brilliant. And like having a direct experience of who I am, no language, words or superlatives can really describe how amazingly it is. I am deeply grateful that you have made this recording available. It is a most precious treasure to have in one's possession. I cannot speak highly enough of how you have made such an experience of seeking & connecting with one's true self so simple & effortless."
Andrew Gash
"Your voice, the music, the wisdom you share are music to my soul…"

"I am at a loss for words to describe my feelings, as I listened to your Why Love Heals guided imagery and beyond. A very emotional journey indeed… feeling the love… feeling deep, deep gratitude for you, a man of science sharing truth withheld… memories of restoring my body naturally from cancer instead of chemo and radiation and how my family did not understand… and as you and others bring God back into science, they can too! Your voice, the music, the wisdom you share are music to my soul and I deeply thank you."
Doreen Agostino